$35 flat rate Pick-Up

for Businesses, Schools and Non-Profits
Our flat rate fee of $35 is a single fixed fee for pick up service regardless of how much e-waste you recycle.
Our service area covers all of Oregon, Southern Washington, Puget Sound and Seattle. We offer flat rate pickup & removal of your old electronic e-waste items. GCER also provides physical & logical onsite hard drive destruction as well as data destruction to meet any compliance needs (NIST 800/NAID) . Naturally, our drop-off service is free for everyone (Mon-Fri, 8:00am-5:00pm and Saturday 11-3pm). In addition to e-waste services, we also offer universal waste recycling for all of your lamps and batteries and Solar PV recycling. See our list of items we accept at no charge below. If your company has newer equipment you would like to sell, please contact us.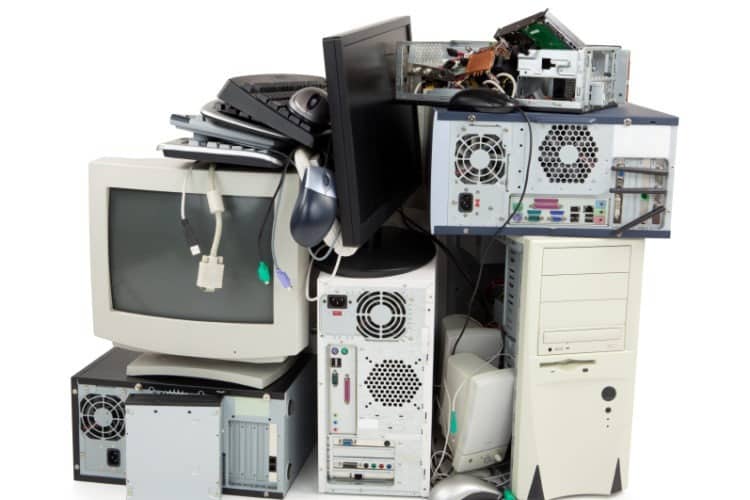 Asset Valuation of newer items
Asset Reclaim on newer items
ITAD Services
Asset Tracking
Onsite Data Destruction
Universal Waste Recycling
Solar Panel Recycling

Protecting your business and the environment through safe, responsible, and sustainable solutions. You can count on the IT/electronics asset conversion experts at Green Century to maximize the value of your recycling, repurposing and remarketing opportunities.
Your goods will be stored and protected in a separate consignment warehouse in accordance with the most modern quality standards.
Analysis of Market Potential
After inspecting your inventory, our marketing and sales divisions will analyze the market potential of your products on the basis of the data gathered in 20 years of market experience and will enter the results into our worldwide distribution network.
Sales and Marketing For Your Excess Stock
After all product attributes are made available to Green Century our sales and marketing will take care of the distribution of your goods. Benefit immediately from a high market penetration, a huge customer base and reliable logistics.
We will notify you with offers as they are received!
Computers
Laptops
Servers
Cell Phones
Printers
LCD Monitors
LCD TV's
CRT monitors/TV's
Networking items
Server Racks
Hard Drives
Circuit Boards
Wire
UPS Battery Backups
Computer Accessories
Medical Equipment
Cable Boxes
Video Game Consoles
Washers / Dryers
Metal Items
Home Electronics
MP3 Players
Cell Phones
Ipad's / Tablets
Video Games
Stereo Equipment
Misc. Electronics
Subscribe to our Newsletter!
Sign up to receive environmental news and updates!